17 April 2023
At the age of 30, Everpia deeply understands our mission
Everpia at the age of 30 understands more deeply its mission.
After three decades of ups and downs, Everpia is taking careful and steady steps on its reinvention journey. With meticulous preparation and relentless effort, Mr. Lee Jae Eun - CEO of Everpia bears in mind an ambitious strategy to fulfill the mission of enhancing Vietnamese family life.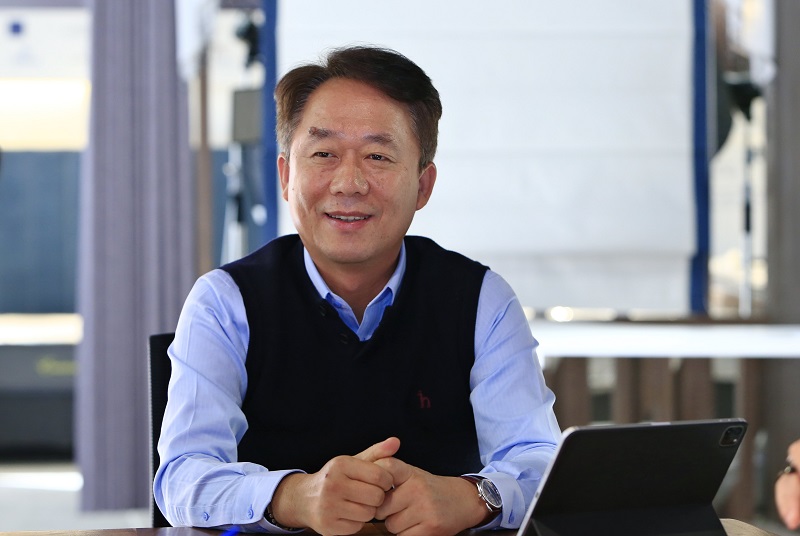 Reborn on the edge of the abyss
It was the flight on a day in February 2001 that brought Mr. Lee Jae Eun to Vietnam for the first time. This Korean investor was impressed by the young promising population of over 70% people under 35 years old in Vietnam, which partly contributed to his decision to buy the Padding and Bedding business of Viko Moolsan - a Korean company that was on the verge of bankruptcy in 2004.
Called it "partly" because at that time the company's financial figures suggested that this investment would be unlikely to be a successful and lucrative one. However, right when stepping out of the accounting office, what surprised him the most was that Everon, after 5 years of launch, had been positioned as a high-class brand in the minds of the restaurant owners that he had a chance to visit. Due to this not-easy-to-get market coverage, he changed his decision and was determined to invest in Everon.
From nearly confronting dissolution, Everpia has rapidly expanded its sales and became a pioneer FDI enterprise to be listed on the stock exchange. By the end of 2022, Everpia has achieved more than VND 1,000 billion in revenue and more than VND 80 billion in profit after tax, exceeding 14% of the year target and, more importantly, closely reaching the pre-pandemic levels.
Strict social distancing measures in mid-2021 were a big challenge for most manufacturing enterprises. In fact, Everpia had to close all stores and agents. Sales were also not immune to this adverse impact.
As difficult as it is, the first message from the Board of Management when the pandemic hit is not to deduct a single penny of the employee's salary. Specifically, salary reduction would always be the last resort and eventually was not used. In that situation, the financial strength of Everpia was still strong enough to pay monthly salaries within the next three years.
As one of the first employees, Ms. Hai has been working at the company ever since her twenties. After 27 years of working, the company's staff size from only about 50 people, multiplying to 24 times, now has more than 1,200 people working at Everpia, including her daughter as well. The fact that the employees' descendants continuously prioritize Everpia to build their careers has left a strong impression on Mr. Lee Jae Eun during Everpia's 30th-anniversary celebration held in November 2022.
"Over the past 30 years of establishment and development, I think it is the sense of community and collectiveness of Everpians that allows us to maintain such sustainable development. I am fully aware that Everpia has always been a loyal, integral, and diligent team that strives for each other. I believe that it is these three core values: loyalty, integrity, and diligence that have made us a unified team working together for a brighter future," the CEO shared.
Innovate to maintain the leading position
At the age of thirty, having been reborn from "ashes", experiencing global crises, and going from an export-oriented company to now conquering the domestic market, the CEO of Everon thinks that one main difference of the company is that Everpia has become more conscious of its mission.
The name Everpia was born in 2004 and is a combination of two words "forEVER" and "utoPIA". Everpia's mission is now much more detailed. It is taking care of the Vietnamese family life and carrying out sustainable activities to create a lasting community.
The mission of Everpia is to support Vietnamese family life beyond only bedding items. In August 2022, an extraordinary handshake was made between Everpia and VMLY&R Vietnam, a brand consulting firm, to assist Everon to rebrand itself with the purpose of meeting the needs of customers and maintaining the leading position in the industry. Here, Everpia first announced the first step of its business expansion strategy - the "home textile" product segment, which includes household items made from fabric, such as curtains and tablecloths, towels, and kitchen utensils.
Mr. Lee Jae Eun exclusively revealed that this year's birthday anniversary of Everpia (November 11, 2023) was chosen to announce the first home textile product. Everpia is preparing the business plan firmly and carefully.
Not only renewing itself in business strategy but there is also a very different version of Everpia in production activities. In fact, 2022 was the first year that Everon launched its yearly collection earlier. The schedule for holding an agent conference to introduce the new-year collection and receive pre-orders has been pushed one month forward, thereby helping the company calculate the number of materials to proactively produce and avoid the burden on the production in the peak season of domestic retailers (B2C channel), which coincides with hotels (B2B channel), online, and export orders. In 2023, the company continues to proceed a month earlier than in 2022, so that it has more room for hotel and export orders during the peak period at the end of the year.
Recently, there have been forecasts about the "hibernation" period of export industries in 2023, including textiles. Indeed, Padding sales are estimated to be negatively affected by this trend; however, according to Mr. Lee Jae Eun, bedding products - an indispensable item in the lifestyle of Vietnamese people will still stand firm regardless of the economic downturn.
Even in the context of the shifting global economy, the leader of Everpia has a feeling that the company is still growing sustainably. The optimistic prediction comes partly from the remarkable new factor of Everpia this year, the Giang Dien project. The 3.8-hectare factory in Dong Nai is expected to come into operation from March 2023 and will replace the current factory in Bien Hoa. This change is also an opportunity for factories and production lines to be standardized and specialized. Moreover, along with focusing on developing online distribution channels with a growth target of 30%, the CEO expects that revenue in the key market of Ho Chi Minh City will be the driving force for Everpia's growth in the challenging year ahead.
---
Any FDI enterprise can develop sustainably in Vietnam.
Once a financial investor, when you took over Everpia through the acquisition of a parent company in South Korea, did you think that you would stick with this manufacturing business in Vietnam for such a long time like this?
When I chose to invest in Everpia, I told my staff that I would stay here to work forever. Compared to financial investment, producing and crafting an actual product is much more interesting. From directly designing, manufacturing, bringing products to the agents, and watching consumers purchasing our products, I find it very fascinating and kind of proud in those moments.
Initially, I was determined to stay in Vietnam and work at Everpia. To this day, that thought and determination have never changed. For me, investing in Everpia is always the right decision.
On the way ahead, Everpia seems to be getting out of its comfort zone to enter the new challenge in the field of "home textiles" with more diversified products. Surely this is not an easy decision for you and the Board of Directors?
It is true that the Board of Directors took a huge amount of time to come to this decision. At Everpia, the production of just curtains requires the approval of many departments. Bringing new products to market is time-consuming and expensive. Yet, I believe that with the enthusiasm and capacity of the staff, this is completely possible as long as we work together.
South Korea recently became one of four comprehensive strategic partners of Vietnam after 30 years of establishing diplomatic relations. As a Korean businessman who has worked in the Vietnamese market for many years, what are your thoughts on this?
Over the past 30 years, the relationship between Vietnam and Korea has made remarkable progress. I myself have attended many events in Vietnam and Korea to celebrate this and feel the atmosphere is very friendly and welcoming. The relationship between the two countries has great potential for development and cooperation in the next period, facilitating businesses in investment activities.
Not only attracting investors from Korea, but Vietnam is also increasingly asserting its position on the international trade map. Everpia is the first Korean FDI company in Vietnam. At the age of 30, we want to convey an important message to other FDIs and potential foreign investors that any FDI enterprise can develop sustainably in Vietnam.
Source: Báo Đầu Tư